Finding the best embroidery machine for your home business is no easy task. It might seem simple in the beginning, but you'll quickly discover that it's really a research rabbit hole… one that seems to keep on going deeper and deeper!
This is where our list of the best home business embroidery machines comes in. After you're done reading this guide, you'll have a very good idea as to which commercial embroidery machine is the best investment for your business.
Whether you're starting up an online embroidery business, an Etsy shop, or perhaps a local in-house embroidery service, you shouldn't take choosing a machine lightly — it's a big deal!
We'll be presenting several choices for top-of-the-line commercial embroidery machines:
"The Best Choice" Embroidery Machine (Janome MB-4S). This particular machine lives in the "upper-middle" end of the pricing spectrum and has a boatload of features perfect for any small business. This is our recommended pick if you want the best of both worlds: reasonable budget & high production quality.
"The Premium Pick" Embroidery Machine (Melco Amaya Bravo). If you're looking for a high-end commercial machine that can handle nearly any design, this is the guy you want to be looking at. It comes with 16 Needles, Digitizing Software, Set of Hoops, and that's just the beginning…
"The Best Value" Embroidery Machine (Janome 400E). This is on the lower end price-wise for a commercial embroidery machine, but if you want something simple to get your business off the ground (and keep your budget in check), then we recommend you take a peek at this option for getting your foot in the market. This is the simplest machine of the three and will require some handholding for embroidery projects with any kind of complexity.
"The Extra Mid-Range" Embroidery Machine (Brother BP2100). Even though it's priced slightly higher than our "Best Value" embroidery machine, this is an excellent choice for any growing home business.
Janome MB-4S Four-Needle Embroidery Machine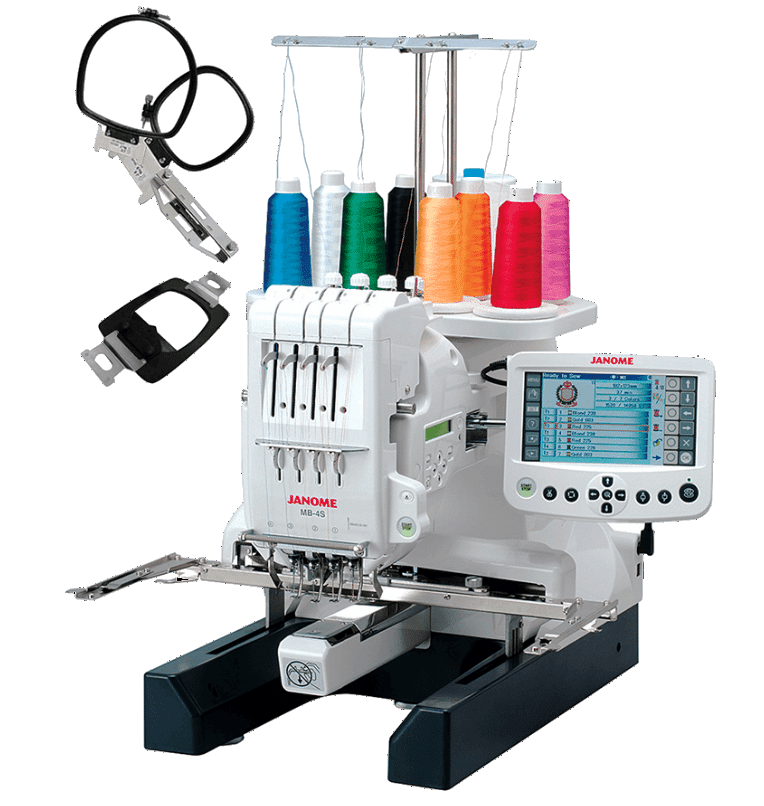 The Janome MB-4S is our recommended "best choice" for a home business embroidery machine. This is a 4-needle embroiderer that'll effortlessly stitch your designs into shirts, hats, and a plethora of other fabrics!
This machine features an automatic thread cutter that handles jump threads automatically (a huge time saver). It runs at up to 800 stitches per minute (spm) and comes with three standard hoop sizes: M1 (240×200 mm), M2 (126×110 mm), and M3 (50×50 mm).
The MB-4S has an extra-large bobbin that's about 1.4x times larger than your standard bobbin, ensuring your thread tension stays on point. There's also an attachable Remote Computer Screen (RCS) through which you view/control your designs, an On-Board Controller with 3 MB of memory (store up to 100 designs or 1.5 million stitches), and a bright LED illumination light. For connectivity, the MB-4S has an ATA PC Card Port and a USB Port.
Last but not least, this machine has a dedicated bobbin winding motor, something you don't typically see even on professional machines. It can wind new bobbins for you automatically while in idle mode (no active stitching) and active mode (actively stitching a design)!
For a home embroidery business, the MB-4S is as good as it gets. You're looking at a medium price point for professional machines, and getting pro features at a great value.
View this machine on Sewing Machines Plus; they offer free shipping to the Continental US and a 25-year limited warranty on Janome Machines!
Janome MB-4S Notable Features
Automatic Thread Cutter
LCD Screen With Backlighting
50 Built-In Designs, 10 Built-In Fonts
2 and 3 Letter Monogramming
Design Resizing (80% – 120%)
Embroidery Area Tracing
Zoom and Stitch Time Indicator
Presser Foot Sensors and Upper Thread Sensors
Precision Ball Bearings
1 Degree & 90 Degree Rotation Increments (CW/CCW)
Vertical and Horizontal Flip Capability
Drag and Drop Editing (Simplified Placement)
Janome MB-4S Product Specifications
Single Head, 4-Needle Embroidery Machine
3 Hoop Sizes: M1 (240×200 mm), M2 (126×110 mm), M3 (50×50 mm)
Machine Size: W365 x H640 / (440*) x D520 mm
Bed Width: W299 x H130 mm
Machine Weight: 20.5 kg (~45.2 lbs)
800 Stitches per Minute (spm) Maximum Speed
400 Stitches per Minute (spm) Low-Range Speed
2,000 Revolutions per Minute (rpm) Bobbin Winding Speed
Compatible with JEF+/JEF (Janome) & DST (Tajima) Formats
Upper Thread Breakage Sensor
Built-In Automatic Thread Cutter (Bobbin & Needle Threads)
Full Rotary DB Hook
Link to Your PC Directly
Melco Amaya Bravo 16-Needle Professional Embroidery Machine
The Melco Amaya Bravo (a 16-needle embroidery machine) is our recommended Premium Pick for any serious home business owner who really wants to get consistent top-notch quality out of their designs. 
You can embroider almost anything with this beast of a machine. For example, you can stitch your designs into leather, flat shirts, tubular shirts, jackets, pants, bags, blankets, jeans, pockets, and even hats.
The full sewing field is a massive 16.1" x 15.7", and your stitch length range is only limited by your hoop size. There's Automatic Thread Trimming and Automatic Break Detection built right into the machine's design, and you can expect to get a consistent maximum stitching speed of 1,100 SPM allowing you to complete your designs quicker. There are also "cold bright" LED Lights on the Melco for greater visibility.
Since this machine is practically made for small businesses growing their embroidery product/service offerings, it comes with a Small Business Start-Up Guide (PDF) and 1,000 Action Illustrated Start-Up Designs in a Bundle! Talk about getting a head start!
When it comes to accessories, the Melco Amaya Bravo comes with the following hoops: 9 cm, 12cm, 15cm, and a 30x36cm jacket back hoop.
Best of all (and unlike our other two recommended embroidery machines), the Melco Amaya comes with digitizing software as a part of the purchase bundle!
DesignShop Pro+, an easy-to-use digitizing software suite, arrives alongside your machine. You can start digitizing your own embroidery designs straight away, saving you both time and money.
All in all, the Melco Amaya Bravo has a suite of professional embroidery features that are all available at a very reasonable price. To get your home business running smoothly you need both reliability and speed, both of which this machine can offer. This machine is available on Sewing Machines Plus with free shipping throughout the Continental US.
Melco Amaya Bravo Notable Features
Comes with bonus material aimed at small businesses (Business Startup Guide PDF)
Design Shop Pro+ Digitizing Software Included in Purchase
Comes with an Action Illustrated 1,000 Design Pack to Kick Start Your Business
Sturdy Aluminum Frame Construction
Network up to 4 Computers to Your Machine
Melco Amaya Bravo Product Specifications
Size with Cart: 724W mm (28.5″) x 1584H mm (62.4″) x 944D mm (37.2″)
Motor Capacity: X and Z Stage (100W), Y Stage (250W)
Hoop Sizes: 9 cm, 12 cm, 15 cm, 30×36 cm
Maximum Stitching Speed: 1,100 Stitches per Minute (SPM)
Minimum Stitching Speed: 300 Stitches per Minute (SPM)
16 Embroidery Needles, Single Head
Janome Memory Craft 400E Embroidery Machine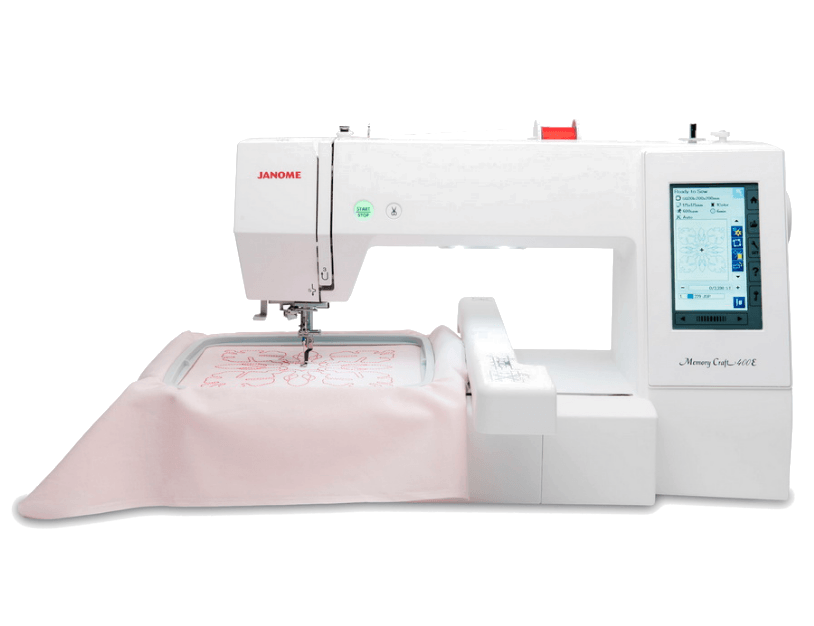 The Janome Memory Craft 400E is our "Best Value" choice for a home business. If you're just trying to dip your toes in the water and get a feel for embroidery, or if you're starting out with a brand new business still in the very early stages of growth, the 400E is a very affordable option.
Even though it's only a single-needle/single-head machine, it packs in some great features like a built-in advanced needle threader, an automatic thread cutter, a bobbin winding plate, and a programmable jump thread cutter. 
The 400E has a full-color LCD touchscreen built into the side of the machine, letting you very easily see/adjust your designs on the fly! It comes with 160 designs built right into the machine and can do 2-3 letter monogramming.
One of the major downsides to this machine is its small stitching area, capping out at a 7.9" x 7.9" square. If you're only going to be working on small designs this isn't a big deal, but if you're planning on doing full-garment embroidery requiring a larger area, it might be worth investing a little more upfront in a larger machine.
Either way, this machine comes with one Standard Hoop (7.9" x 7.9"), and has the option of adding on additional hoops on checkout (5.5"x7.9", 5.5"x5.5", and 1.6"x3.9").
If your business is in its infant stages and you really want to learn embroidery from the ground up, the Janome Memory Craft 400E is a great choice. On the flip side, if you've been doing embroidery for ages and have experience with high-end machines, the 400E is likely not the right machine for you.
If you want to take a peek at the 400E, it's currently available on Sewing Machines Plus with free shipping in the Continental United States as well as a 25-year limited warranty!
Janome 400E Notable Features
160 Built-In Designs, 6 Built-In Fonts for Monogramming
Maximum Embroidery Area of 7.9″ x 7.9″
Full-Color LCD Touchscreen Built Into the Machine Allowing: Rotate, Flip, Drag and Drop, and Enlarge/Reduce Capability
Programmable Jump Thread Trimming
Automatic Thread Cutting
Bobbin Winding Plate With Included Cutter
Has a Built-In Advanced Needle Threader
Janome 400E Product Specifications
860 Maximum Stitches per Minute (SPM)
400 Minimum Stitches per Minute (SPM)
Accepts the *.JEF Embroidery File Format
Adjustable Speed During Embroidering
Features Flexible Stitch Traveling (Units of 1, 10, or 100)
Comes With an SQ20b Standard Hoop (7.9″ x 7.9″)
Brother BP2100 Embroidery Machine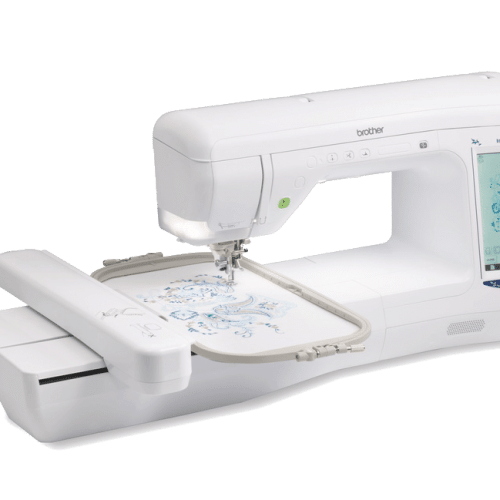 We included the Brother BP2100 on our list because it's an excellent budget alternative compared to the Janome/Melco machines we recommended in our top three.
One really unique (and insanely useful!) feature of the BP2100 is its exclusive Droplight Positioning Marker. It uses an LED Pointer to very accurately "drop" the position of the needle down onto the fabric, letting you see precisely where you're positioning the start of your design.
There's a Large Touch-Screen Color LCD Screen built right into the side of this machine, letting you fine-tune your positioning in 1-degree increments, change the background color of your design for greater visibility (based on your thread colors), and move the LED Pointer Droplight into a precise starting location.
What's really great about the Brother BP2100 is its Large Embroidery Field, covering a rectangular area of 7"x12"! This gives you enough room to work on medium-large designs without having to settle for a smaller work area (like the Janome Memory Craft 400E).
To top it all off, there's an Automatic Thread Cutter and Automatic Needle Threader built right into the machine.
For a home business that's starting to hit some growth numbers, the BP2100 is an excellent choice for a budget embroidery machine.
You can read more about this machine and get the latest price tag at Sewing Machines Plus.
Brother BP2100 Notable Features
Features a Large Rectangular 7″ x 12″ Embroidery Field
Has 227 Built-In Embroidery Designs and 15 Embroidery Fonts
Built-In USB Port Allows You to Easily Import Designs from Your PC
Built-In Needle Threader
Automatic Thread Cutter
Stitch Jumping Feature, letting you jump right back to where your design left off
Brother BP2100 Product Specifications
Maximum Stitches per Minute: 1,050
Allows Pattern Rotations in 1, 10, and 90 degree increments
Simple Transitions Between Metric or English Units
Thread Sensor to Alert You of Bobbin Thread and Top Thread Breakage
LED Pointer Embroidery Positioning Marker (Droplight)
Guide to Buying an Embroidery Machine for Home Business
This guide will briefly walk through the biggest decision points you should be thinking about before making a purchase.
Decision Point 1: Daily Operation (Hours)
This is a big one. Depending on how many orders you estimate you'll be taking on a daily basis, you can extrapolate your estimated daily runtime. For an embroidery business with moderate order volume, it's not uncommon to reach ~10 hours of consistent operation daily!
As you can imagine… running your machine for 10 hours a day can really take its toll unless it's designed to withstand the pressure. This is why it's absolutely critical you look at commercial and/or industrial embroidery machines for business use, and stay far away from the cheap embroidery machines (sub $1,000) more suited for on/off hobbyists. You don't want to wear your machine out and be stuck with a pile of unfulfilled orders while waiting on repairs!
Decision Point 2: Automation vs. Manual Supervision
Leaving your machine unattended for long periods of time without watching it like a hawk is the main differentiator between a hobbyist machine and one that's well-suited for commercial/industrial use.
As an embroidery business, you don't have the time to stand around and watch your machine for snags or manually cut jump threads… do that and you'll eat up your days' time faster than you can blink.
As entrepreneurs, we tend to have higher risk tolerances, but at the same time, we're very risk-averse and tend to play it smart. I wouldn't stake my business on a hobbyist machine long-term.
Reliable commercial embroidery machines will efficiently handle jump stitches and have an automatic trimmer built right in, fully automating the process. As mentioned earlier, manually cutting every jump thread is completely out of the question if you're going to be producing at any kind of volume.
Decision Point 3: Screen and Hoop Size
For commercial embroidery, you'll typically need a variety of screen and embroidery hoop sizes, depending on what you're working on.
To be completely safe, I would buy an embroidery machine with a screen/hoop sized slightly above what I would anticipate taking on in terms of the embroidery area. This way you can grow into the machine if you choose to expand your designs in the future.
Thinking of getting a machine with smaller hoops? Well, you should factor in the time it takes to reposition, rehoop, and readjust if you're working with a larger surface area.
I want to caution you though, that this time you spend readjusting hoops can add up quick. Typically, when it comes to business/commercial use, it's almost always worth budgeting extra for a commercial machine that can handle larger work areas.
Decision Point 4: Digitizing Your Designs
If you're designing your own embroidery patterns, you'll either need to get some digitizing software and learn the ropes or send your embroidery designs out to a third-party digitizing firm.
We've always preferred the first option and done all of our digitizing in-house, but it is a little bit of a learning curve in the very beginning.
Luckily, our "Best Choice" (Janome MB-4S) and "Premium Pick" (Melco Amaya Bravo) embroidery machines come with digitizing software add-ons that you can easily snatch up with your order!
The MB-4S comes with Janome Artistic Digitizer Software, and the Melco Amaya Bravo is packaged together with Design Shop Pro+, a powerful digitizing software suite.
Decision Point 5: Changing Needles and Fabric Type
This is very often overlooked and underestimated by new embroidery business owners. You don't want to be the guy/gal who locks up your machine's internal safety on your first project!
It's critical that you know when to change your needles for certain types of fabrics.
As an example, if you're frequently doing projects with ~10,000 stitches on gabardine or calico (thick, heavy materials), you can expect to swap out your needles every ~3-4 iterations.
And if you'll be working with stretch fabrics at any time in the near future, you'll need a special needle to handle the fabric's composition.
Decision Point 6: Stabilizers and Adjusting Stitch Quality
This on the deep end of that "research rabbit hole" we mentioned earlier.
Not only will you have to consider all five decision points mentioned above, but you'll also need to learn about stabilizers and how to ensure your stitch quality remains top-notch.
A stabilizer is essentially a bit of material that hides out on the back of your fabric, helping hold your design in place.
Many textile fabrics used in the clothes hanging in your closet weren't designed with embroidery in mind. Therefore, if you want to stitch your designs into these types of fabrics, you'll have to choose a stabilizer and attach them to your project.
There are cutaway stabilizers (you cut around them and trim them down once your design is embroidered), tearaway stabilizers (as the name suggests, you can tear these away from the stitches post-embroidering), or water-soluble stabilizers (typically used for standalone embroidered products, dissolve in water).